Many smaller web sites lack the fundamental online publishing tools to broadcast their news, articles, press releases, etc. and are therefore unable to compete with the larger, more established news and media web sites on the Internet. In-Newz is designed to change that by providing a fully integrated and centralized solution for content publishing and news management.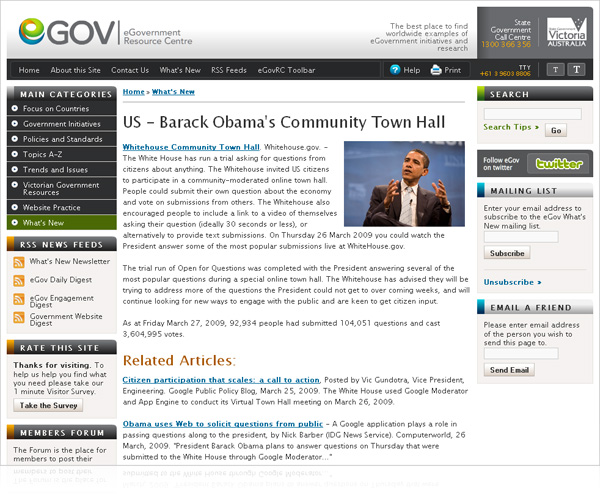 News Front-end Experience
In-Newz allows you to publish articles to selected categories and even schedule automatic publishing. Breaking news can be displayed at a glance, ensuring that your readers will not miss it. In-Newz lets you display selected articles as lead stories for a particular category or the entire website. In-Newz also allows your users to interact directly with the articles that they are reading by rating articles, reviewing them, or even discussing them on the Discussion Forum.
In-newz is designed to make publishing and managing articles easy and comes equipped with content syndication and distribution tools. Your users can also review, rate and comment on articles.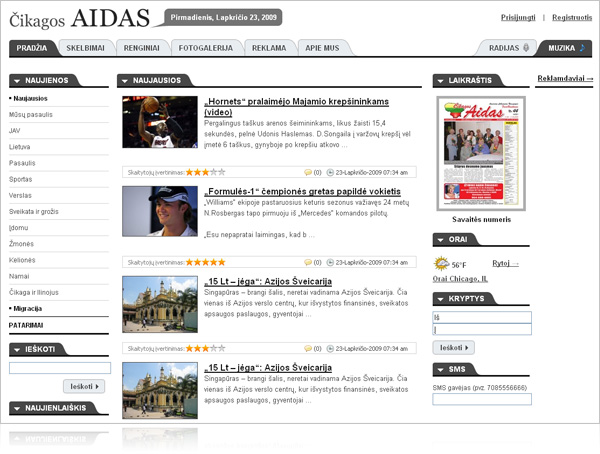 Other News front-end features include:
Site-wide and category-specific lead stories
Fully-featured Content Management for articles
Support for unlimited number of categories and articles
Fully configurable search engine friendly URLs
Ability to fully customize each article
Full Image gallery is built into each article
Support for RSS feeds
Support for storing custom data of any format
Category-style navigation with breadcrumbs
Quick and advanced search
Articles can be sorted and/or filtered by any field
Users can post or recommend new articles
Users can rate, review articles and comment on them
Automatically track new, hot, popular and editor's picks articles
Attach files to articles to allow users to download them
Ability to cross-reference with other articles and categories

News Administration & Tools
When it comes to breaking news, timing is everything. The central Administrative Console helps you to stay ahead of the game. The Content Management feature allows for easy article publishing and without any knowledge of programming or HTML. Article management ensures that your web site users receive the latest news and updates. You can even schedule articles to appear and expire on certain dates. Finally, automatic archiving keeps your web site free of old news.
In-Newz comes equipped with administrative tools for easy article publishing and without any knowledge of programming or HTML. Automatically scheduling and archiving articles will keep your site's content fresh and relevant.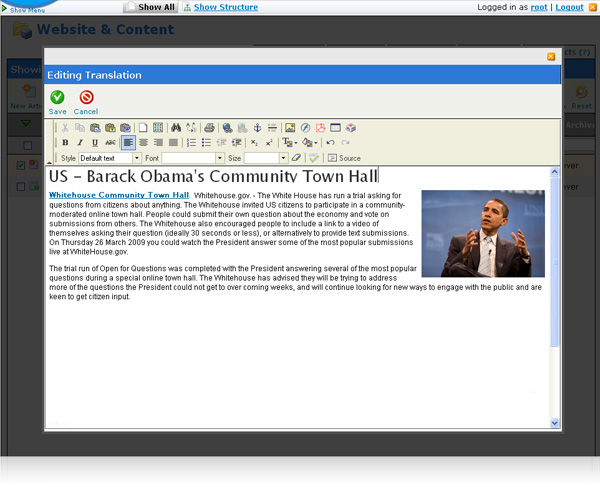 Other News management / administrative features include:
Articles fully integrate into the structure of the website
Automatic excerpt generation for articles
Automatic article archiving
Manage any number of categories and articles
Scheduled article publishing and archiving
Sort, search, filter or mass-edit articles with ease
Cross-reference with other elements and sections of the website
Assign articles to users of the website for their management
Editorial review for incoming articles
Configurable front end output and search parameters
Configurable automatic e-mails associated with articles
Define custom information to be stored in each listing