In-Link has all the features one would ever need to run an online directory or a classifieds website. In fact, In-Link has been continuously developed and improved over the past eight years and was initially one of the first solutions of its type on the Internet. In-Link is now used by millions of people worldwide in thousands of various applications and boasts more features and flexibility than virtually any other Directory Management solution today.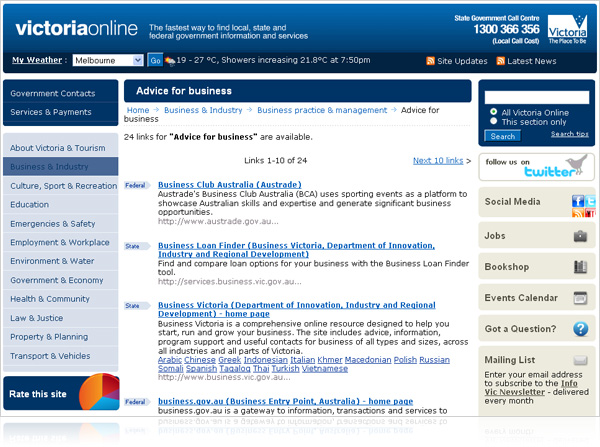 Directory Front-end Experience
In-Link not only allows your users to effectively view, navigate and search listings on your website; it also allows users to interact directly with your website while supplying your website with new content. In-Link allows users to suggest new listings, maintain their own listings, rate and review existing listings, and much more. In-Link automatically maintains top rated, new and most popular listings, editor picks and keeps track of various markers, counters and statistics on all categories and listings on your website.
In-Link comes equipped with tools for rating, reviewing, and sharing listings, allowing your users to interact with and contribute to the directory.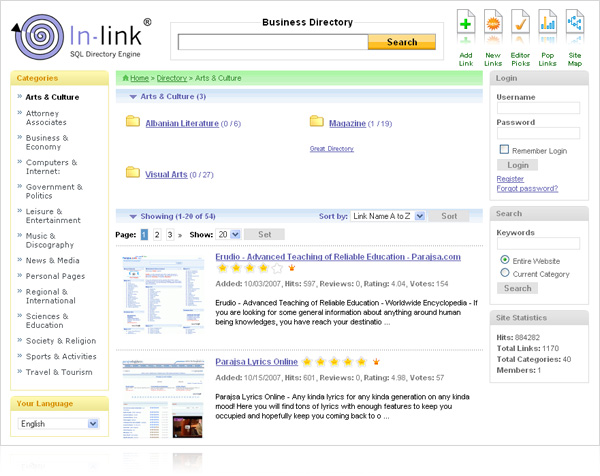 Other Directory / Classifieds front-end features include:
Fully configurable and search engine friendly URLs
Support for unlimited number of categories and listings
Ability to fully customize each category and listing
Full Image gallery is built into each listing
Support for storing custom data of any format
Category-style navigation with breadcrumbs
Quick and advanced search
Listings can be sorted and/or filtered by any field
Users can post or recommend new listings
Users can rate, review listings and comment on them
Automatically track new, hot, popular and editor's picks listings
Attach files to listings to allow users to download them
Ability to cross-reference with other listings and categories

Directory Administration & Link Tools
In-Link integrates directly into your In-Portal's Administrative Console allowing you to manage your directory and listings along with every other aspect of your website. In-Link also comes with a wide range of tools to manage links to other websites, from built-in Link Validation to Duplicate Links Checker.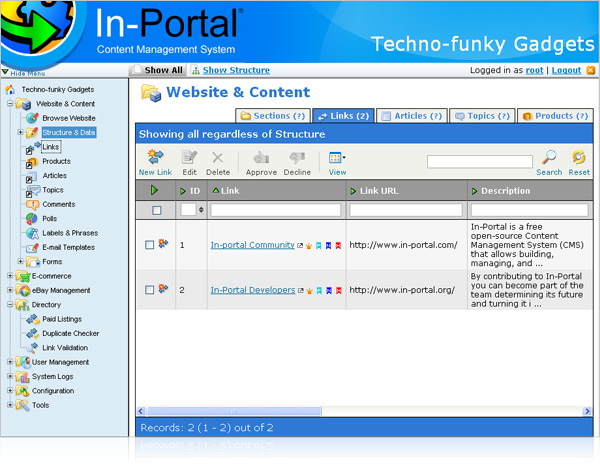 Paid Listings
One of the most popular applications for In-Link is running a directory or a catalog of paid listings. If you want to sell featured or more prominent listings, In-Link has a built-in solution for that. It fully integrates with In-Commerce - an e-commerce shopping cart to accept payments online and automatically manage paid listings on configurable terms, handle expirations, renewal notifications, upgrades and much more.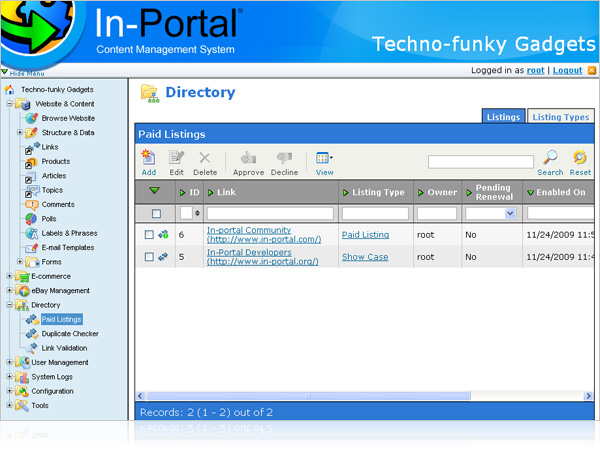 Other Directory management / administrative features include:
Fully integrates into the structure of the website
Manage any number of categories and listings
Sort, search, filter or mass-edit listings with ease
Cross-reference with other elements and sections of the website
Assign listings to users of the website for their management
Editorial review for incoming listings
Configurable front end output and search parameters
Configurable automatic e-mails associated with listings
Define custom information to be stored in each listing
Fully-featured Content Management for listings