In-Commerce allows to easily expand your In-Portal website with a wide array of e-commerce applications. If you would like to sell products, services, or subscription through your website, In-Commerce is a modular solution that you can have up and running in a matter of minutes.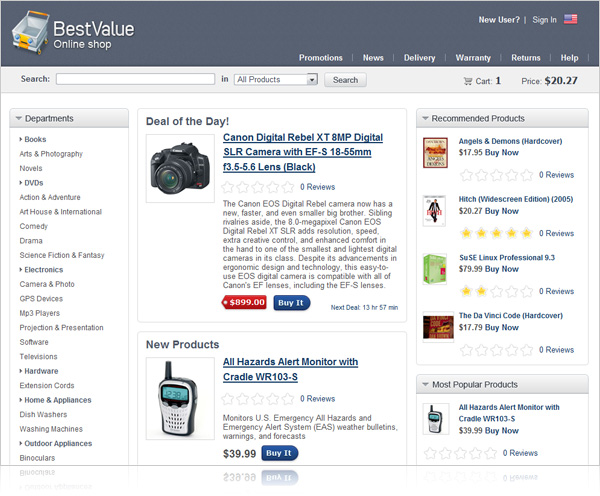 Product Catalog & Inventory
At the heart of any online store is a Product Catalog. Product Catalog in In-Commerce is not limited to just tangible products, you can easily sell services as well as downloadable items, subscriptions or any combination thereof.
Product Catalog driven by In-Commerce allows your customers to shop with ease and confidence. It comes equipped with all popular features that large online retailers offer, allowing your customers to:
Browse your Product Catalog by navigating through any number of categories.
View related products or categories (cross-selling) and packages (up-selling).
Search for products using intelligent search.
Shop for products of various types: tangible, subscriptions, services, or downloads.
View product details and specifications (from product reviews and warranty to any other information that you specify).
Browse product image galleries.
Build "your own" products from options and combination of components.
Interact with the Product Catalog by rating and reviewing (commenting on) products .
Access special rates or pricing (if available).
Utilize promo codes, gift cards and discounts for promotional pricing.
Check availability of products, available quantity and backorders dates (if available).
Share products and deals using Social Shopping Features.

Additionally, In-Commerce automatically tracks your inventory (quantity in stock) allowing you to manage your entire inventory with. It even facilitates product reordering, backordering and availability dates.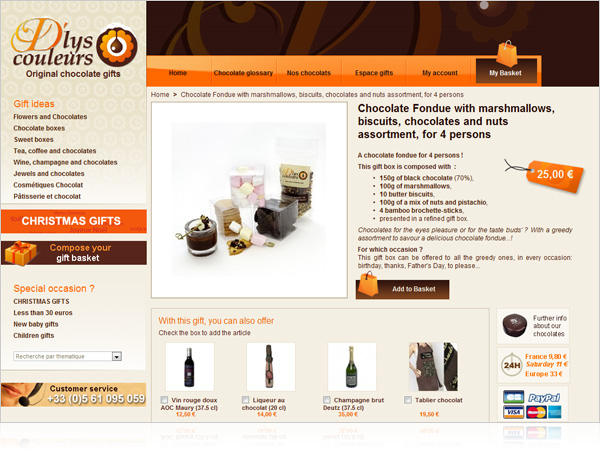 Shopping Cart
The design of the online shopping cart is a key to the success of your Internet store. At the heart of In-Commerce is a shopping cart like no other. It makes purchasing from your online store effortless, yet it is very powerful and flexible to manage. The In-Commerce Shopping Cart comes equipped with many features that make shopping on your website an enjoyable experience:
Quick View lets customers see a snapshot of their Shopping Cart at a glance
One-click Checkout and Returning Customers Checkout simplifies the checkout process for returning customers
Selection of Shipping Options allows customers to choose shipping method or carrier in accordance with their budget and preference
Saved Addresses and Billing Information allows customers to select previously used shipping or billing information for repeating orders.
Splitting Orders allows customers to preorder items as well as manage their orders with backordered items.
Selection of Payment Types lets your customers choose the most convenient form of payment: credit cards, online or manual checks, wire transfers, PayPal, purchase orders, cash on delivery, etc.
Favorites lets your customers save selected items for a later purchase
Recently Viewed Items allows your customers to see history of items they've looked at for easy comparison or quick access to them later.
Orders History allows customers to view the complete history of their previous orders, repeat orders, view and print order details or check on the status of an order.


Credit Card & Payment Processing
In-Commerce has a built-in support for automatic credit card processing for Visa, MasterCard, American Express, Discover, and others. In-Commerce supports many popular payment gateways, including Authorize.net, Google Checkout, PayPal, PayPal Pro, Paymentech (Chase), Atos Origin, MultiCard, Paybox, RightConnect, Verisign, Sella (GuestPay), etc. We will also add your favorite gateway upon request (contact our support department for details).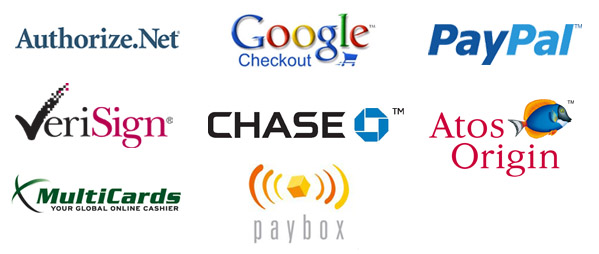 In-Commerce also allows setting up unlimited custom payment methods to match the needs of your online store. You can accept PayPal, checks, wire transfers, COD payments and more, providing custom instructions to your clients for every method.

Fraud Prevention & Security
Peace of mind is one of the most valuable features that any e-commerce software should be able to provide to its owner. In-Commerce accomplishes that by using industry-proven techniques of fraud prevention and information storage safety. From the strongest encryption, Card Verification (CVV2) and AVS (Address Verification), to MaxMind automatic screening and manual order screening capabilities – In-Commerce's credit card processing system makes every effort to make your store administration easy and secure. If necessary, the support team can also help reduce credit card fraud by deploying additional security measures.

Shipping Automation
In-Commerce fully automates shipping from quoting rates to tracking. It calculates the costs based on the destination, product weight, order amount, and other factors, and displays all available choices to the customer. It will even automatically pick the lowest cost for each type of delivery! Once the order is placed, In-Commerce lets customers track their orders in real time.
Optionally, In-Commerce has expandable capabilities to automatically place pick up orders with FedEx, UPS, DHL and USPS, and even print shipping labels, making order processing as simple as putting products in a box and putting a printed label on the box.


International & Regional Commerce
With In-Commerce you can run your store in multiple languages and currencies and even run "localized" versions of your store for various countries and languages. Customers can also choose the currency with which to purchase your products. In-Commerce is capable of displaying product pricing, shipping costs and taxes in any currency as well as automatically converting currencies by retrieving up-to-date currency exchange rates from banks. In-Commerce is fully equipped to accommodate international transactions: from billing to shipping, making In-Commerce a solution of choice for international websites.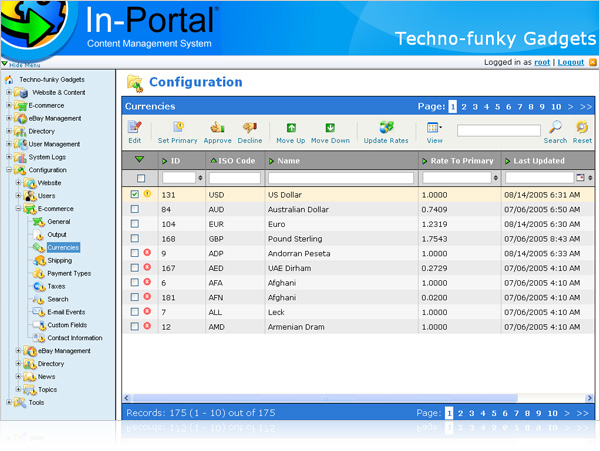 Administration: Products, Orders and Inventory Management
In-Commerce is designed to manage your entire store and process orders as efficiently as possible. With over ten years on the market, In-Commerce has evolved into a solution that saves your business time any money. It includes more features than competing solutions, yet is more flexible and easier to use. Some of the features are: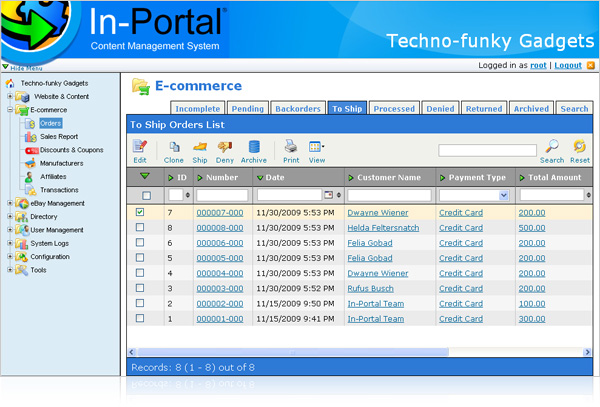 Manage your Product Catalog: including unlimited number of products throughout your website
Sections (pages) of your website act as product Categories, giving you more flexibility with the structure of your website. You can put products in any sections (categories), even one product in multiple sections.
Manage products of all types: tangible, subscriptions, services, or downloads, allowing you to sell anything on your website.
Automatically list your products on eBay auctions and eBay store with the help from eBay Auction Management module.
Cross-reference with other products, or other sections and elements of the website and organize products into packages.
Define custom information to be stored in each product in addition to a wide variety of built-in product properties (depending on the type selected).
Manage New Products, Top Sellers, Popular Products, or Products on Sale.
Search, sort, filter or mass-edit products, orders and transactions with ease. Run sales reports.
Process (Approve / Deny) Orders with full access to order information. Categorize orders: Incomplete, Pending, Processed, To Ship, Backorders, Denied, Returned, Archived, etc.
View Incomplete Orders and assist customers with problems completing the checkout process.
Manage your entire inventory as well as product reordering, backordering and availability counts.
Manage returns and credits.
Setup special pricing, including customer-specific pricing, price brackets (depending on quantity) and more.
Setup Coupons and Discounts for promotions for distributing by e-mail, mailings, or marketing campaigns on the Web.
Manage manufacturers, currencies, shipping options, payment options, taxes, and much more.
Run and manage affiliate programs, including affiliate management, commissions, and more.
And hundreds of other e-commerce features included with In-Commerce.