In-Portal has a number of built-in features and many freely available modules that can be easily added to expand the functionality of your In-Portal-driven website (from running classifieds to an online store). Installing and configuring In-Portal is very easy and our installation wizard does all the work for you.
We also realize that some users are more advanced than others so that is why In-Portal has several levels of administrative interfaces, depending how easy you want management to be and whether you want access to any of its advanced features (you can easily choose proper level of administrative experience for you and your customers).

Content Management
With In-Portal, keeping the content updated is as easy as browsing the website, and clicking on an Edit button next to the content you want to update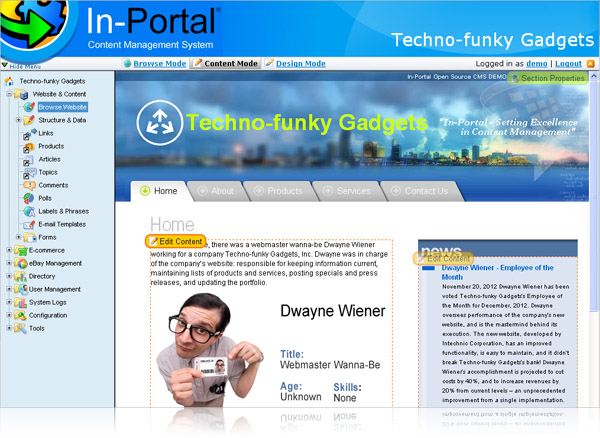 The WYSIWYG Content Editor allows you to modify the content that you see with any use of styles, formatting, images, links or documents. Basically, it is similar to using Microsoft Word, except you can "write" directly to your website. You can even copy-paste content from MS Word and Excel.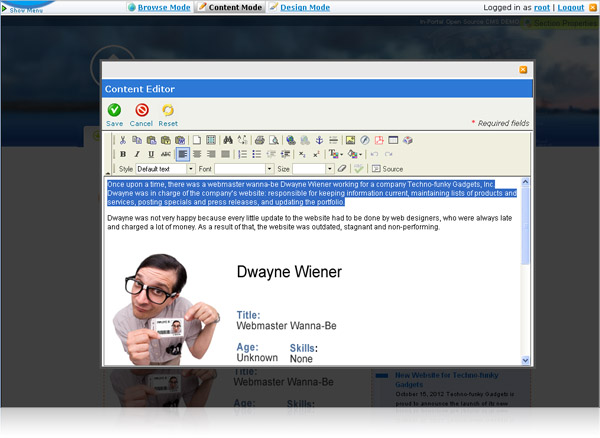 You can also easily modify layout and design of the website without even having to work with any of the HTML code. You can drag blocks and layout elements around and even modify their properties and you have full control over the look and feel of your website.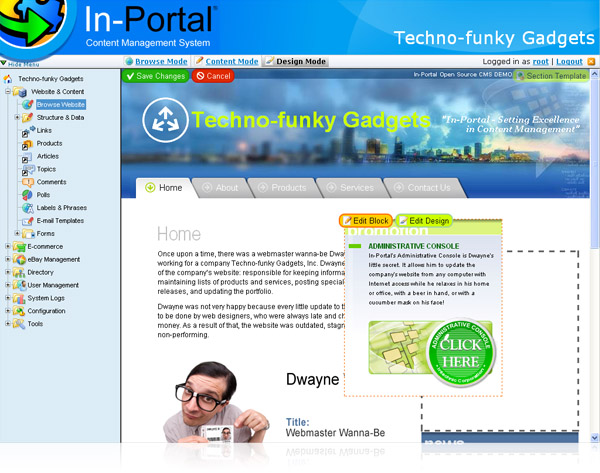 Advanced users get one-click access to the code of the element that needs to be modified. Anything that you see: design, content and even functionality can be easily tailored to your needs.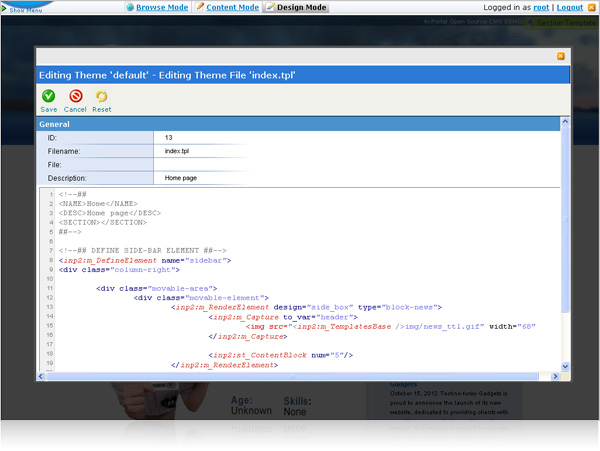 Structure Management
In-Portal allows you to manage the structure of the website – add, move and modify sections (pages) of your website and automatically update navigation menu throughout the site.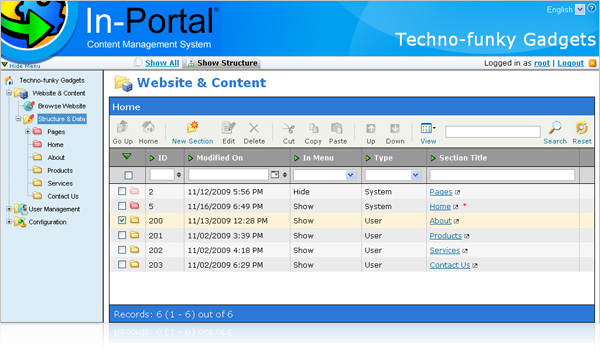 You can modify various page properties depending on your needs. In-Portal is search engine friendly, allowing custom URLs, optimized content and META tags for every section of the website.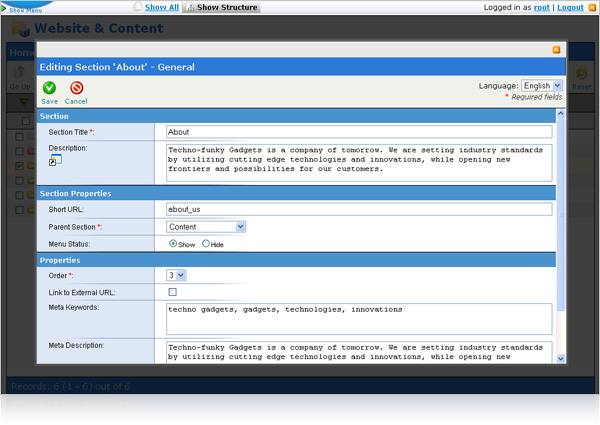 In-Portal also comes with multilingual support so you can run your website in multiple languages and easily manage them, as well as you can let your visitors choose the language for your entire website.

Data Management
With In-Portal you can think of your website sections as folders on your computer. They can help you organize various items. For example you can use sections as categories to organize products, links, articles, topics, etc. In fact, you can have any of these elements on any of your pages.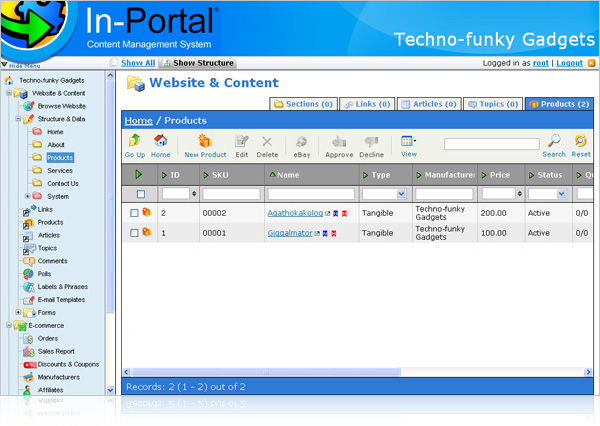 In-Portal lets you easily setup online forms to collect and process information from your users – it can store it in the database and/or e-mail to designated addresses.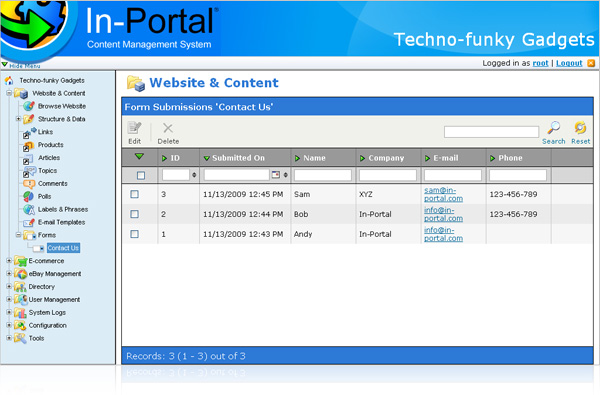 User Management
In-Portal acts as the central system to manage the community of your website: registered users, their accounts and information. It comes equipped with user management tools like fully-featured mailing lists, users export, user ban lists, flexible system of user permissions, and much more.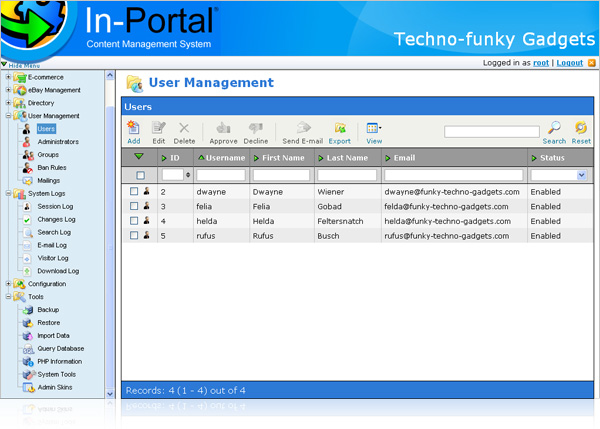 You can also setup multiple Administrative users, and users of other types. You can define user types as well as configure their permissions (controlling the level and type of access) for both front-end and administrative users.

Central Administrative Console
All of your website's services and features are managed through a secure central Administrative Console. The Administrative Console features intuitive and easy to use interfaces and consists of logically organized functional sections and tools that are designed for maximum efficiency. For example, various Data Grids (information lists for users, products, orders, etc.) include capabilities for editing, viewing, sorting, searching, and filtering based on the specified criteria. You can even customize data grids by selecting the columns in the order you want to see them. Finally, each administrative user can customize their own Administrative Console, the way they want them and the system will remember their preferences each time they login.